Judges, Demonstrators, Education and Speakers

The JDE&S Committee was set up to deal with all matters relating to Judges, Demonstrators, Education and Speakers. The committee consists of a representative and deputy for each discipline and meetings are held on a quarterly basis.
We organise training and testing and each representative attends their appropriate NAFAS meeting held at Osborne House, London, the Association Headquarters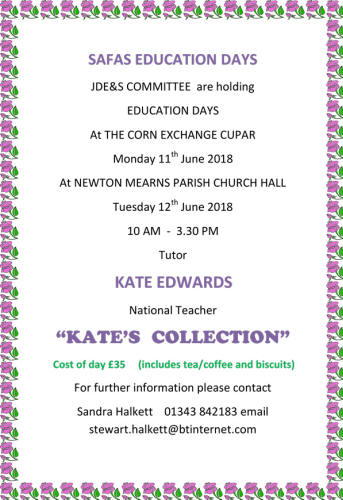 Presentations are given to flower clubs by Demonstrators and Speakers whilst in Education, teachers will do workshops and take classes. This is an important part of our Association since this is where we attach our charity status. Judges may be asked to judge horticultural, Area or even National shows.
---
SAFAS Education Day at Corn Exchange, Cupar, Fife, Tutor - Jackie Charnock

A selection of the Education Day run by Mary Law & Audrey Buchan.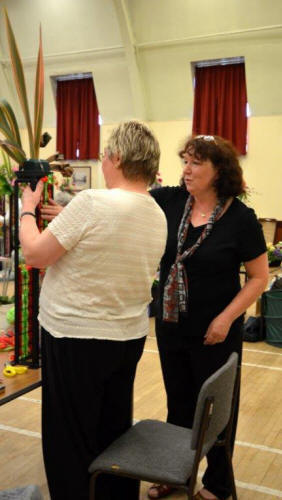 Jackie assisting one of the members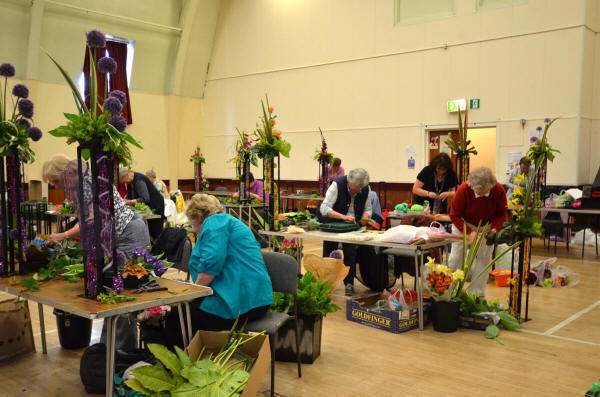 A selection of arrangements assembled throughout the day.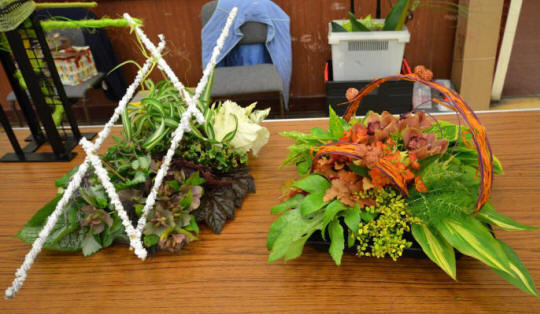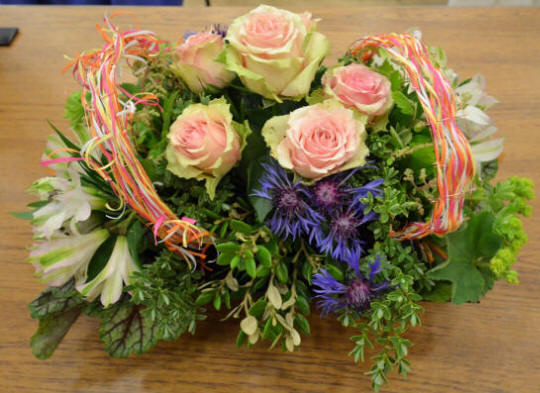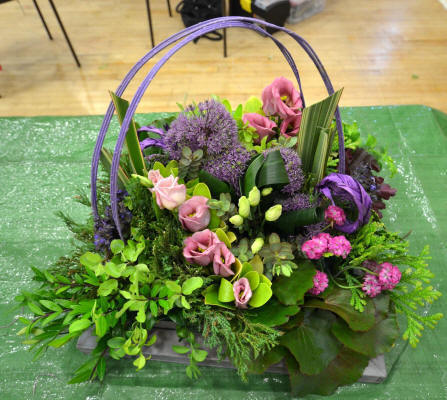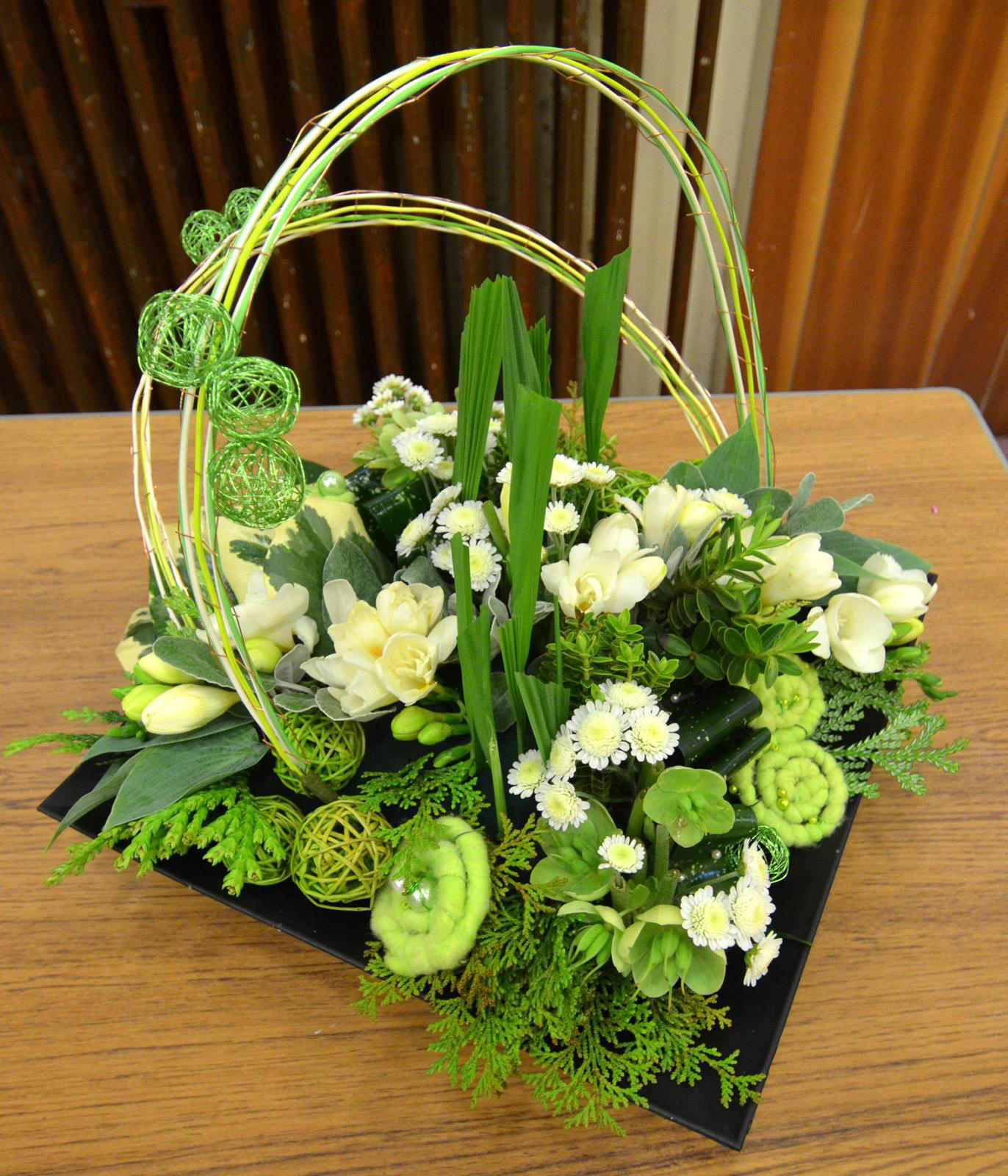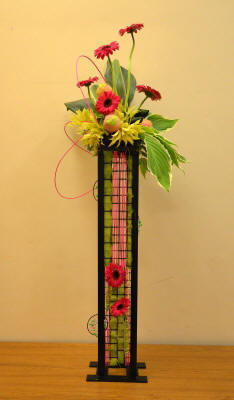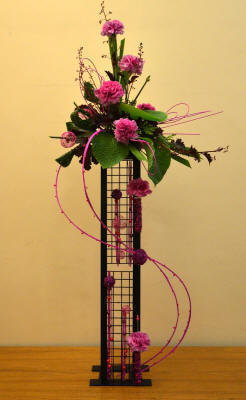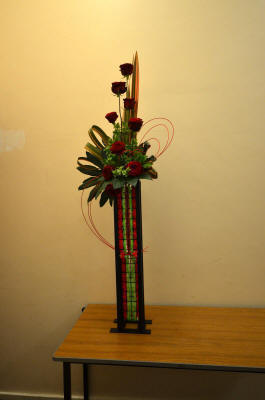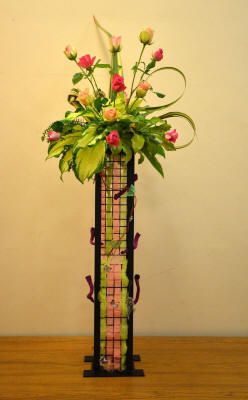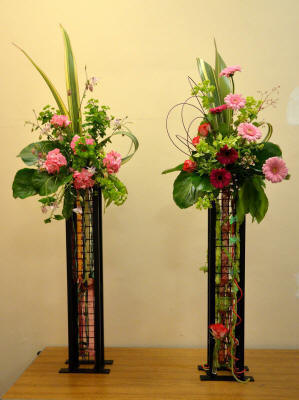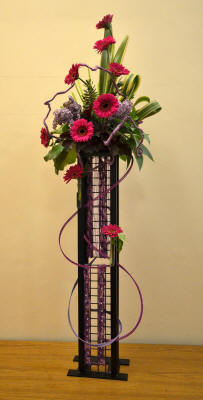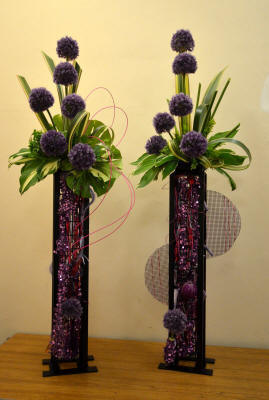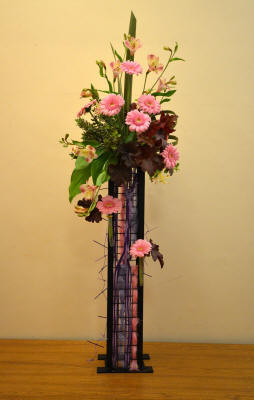 Margaret Scott SAFAS Chairman giving the Vote of Thanks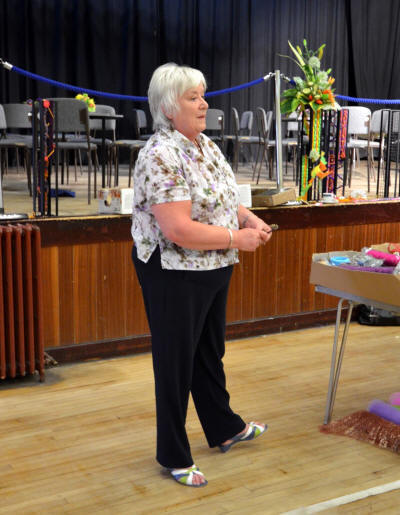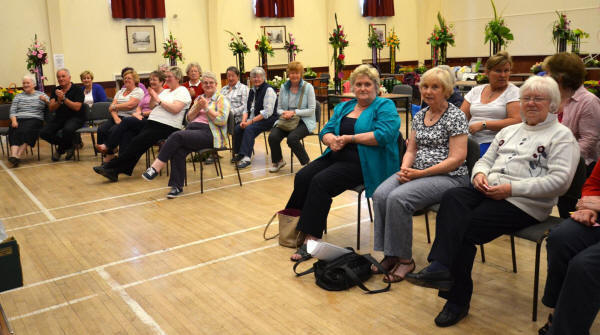 Participating members also Audrey Buchan and Mary Law; 3rd and 1st from right (below).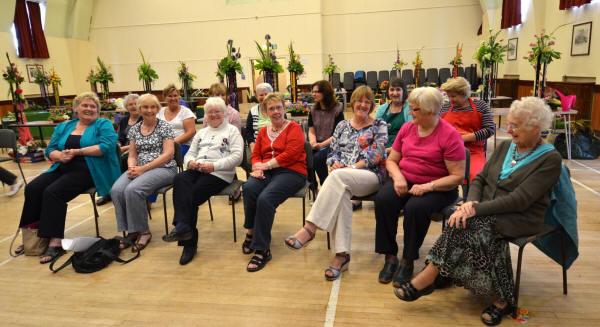 ---
JDE&S proudly presented the "S" Factor, a celebration of SAFAS talented Speakers on Friday 1st July 2011 at the Corn Exchange in Cupar, Fife.
The Photographs show the fun presentations that the members enjoyed on the day with excellent Talks by our 4 National Speakers and judged by the Panel of 'Celebrity' Judges.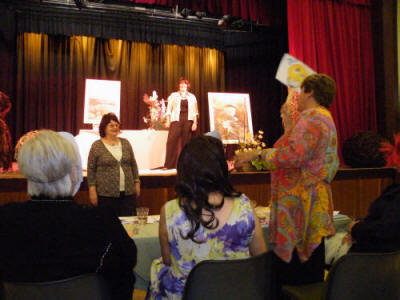 Kate Kerr's amazing visual aids and beautiful paintings capture her "Working with Nature" presentation. This talk will truly amaze any audience.
Kate is amused by Judge Kylie's enthusiasm for her presentation.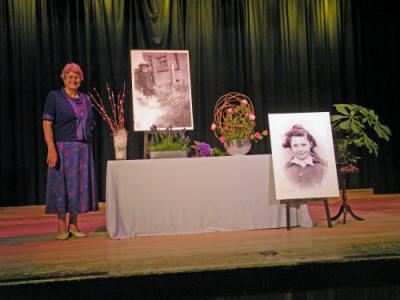 Did you know Petals have Personalities?
Carolynne Sorrell's presentation explains her reminiscing her life with flowers and foliage.
The title of Carolynne's talk is "Petals with Personalities"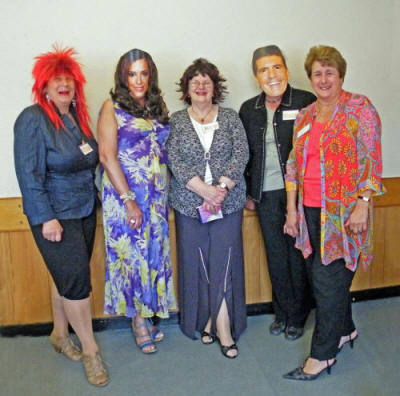 The Panel of Celebrity Judges with compere' Mrs'O'

Tina Turner Cheryl Cole Mrs 'O' Simon Cowell Kylie or maybe Danni Minoque
(Maureen Manning, Pat Wilson, Christine McKenna, Margaret Scott, Linda Soutar)
---



Teachers Association November 2009 meeting was held in Edinburgh where Mrs Valerie Davidson, NAFAS Director, entertained a big audience with a
Christmas demonstration entitled " The Holly and The Ivy".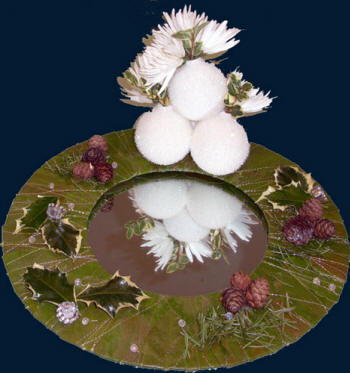 Valerie's morning session focused upon techniques and the inspiring, more contemporary element of that presentation, was greatly appreciated by an attentive gathering.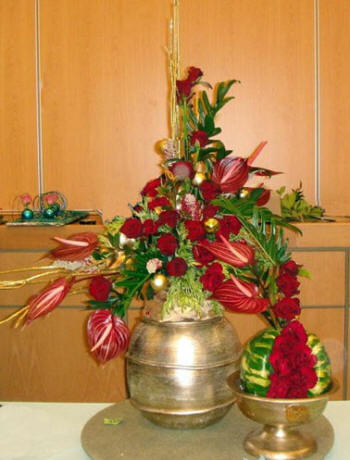 ---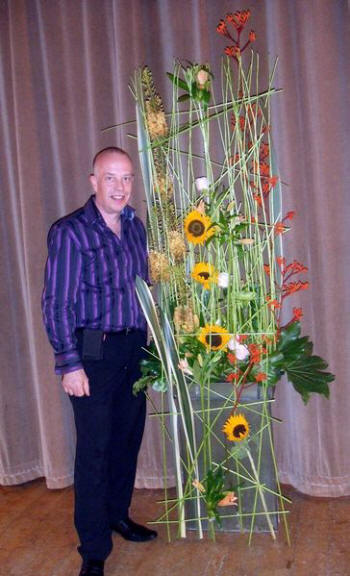 Teachers Association April 09 meeting was held in Glasgow where
Neil Whittaker, Manchester, a florist of international renown presented a
contemporary demonstration entitled " Natures Own"
---
Teachers' Association November meeting was held in Edinburgh where Mrs Lilias Hoskins, National Demonstrator, gave an excellent Christmas demonstration to a well attended gathering.
This followed a very entertaining morning session when Lilias willingly shared her undoubted skills and presented the members with some wonderful Christmas ideas.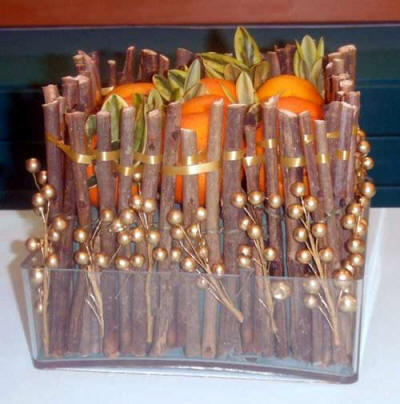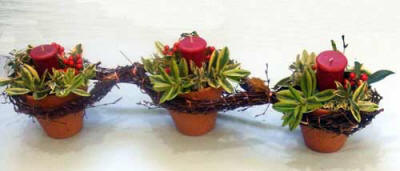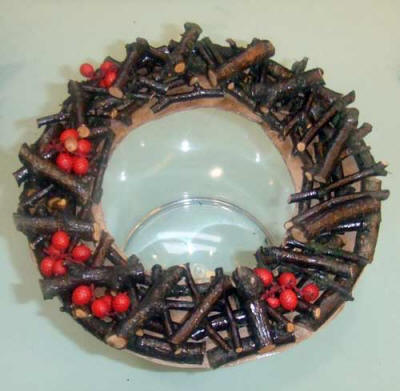 ---
The Teachers Association held a workshop and demonstration by Jo Goldsworthy on 24th April 2008 .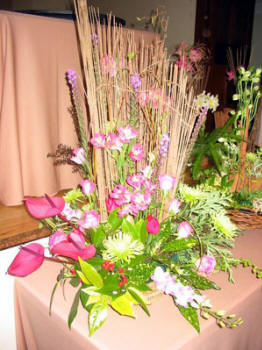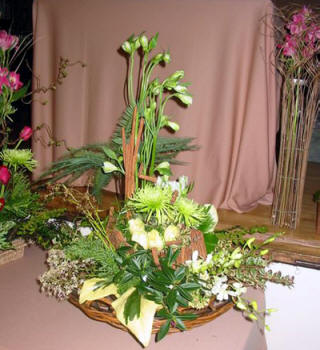 Some of Jo's work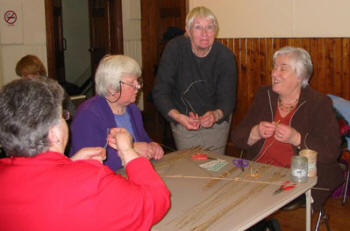 Pitlochry ladies at afternoon workshop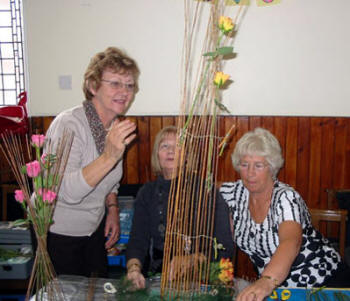 Broughty Ferry ladies at afternoon workshop
---
The following photos are from the education workshop day held on Friday 18 April 2008 at Bannockburn Community Centre and the day's topic was " Emphasise Contrast of Form and Texture "
Presenter : Hazel Hall from Yorkshire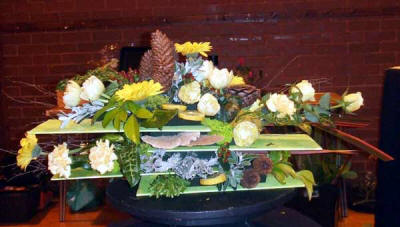 Layers
Designer Hazel Hall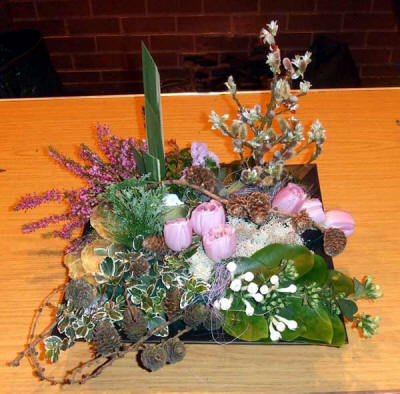 Tulips
Designer Mary Law MBE NAFAS President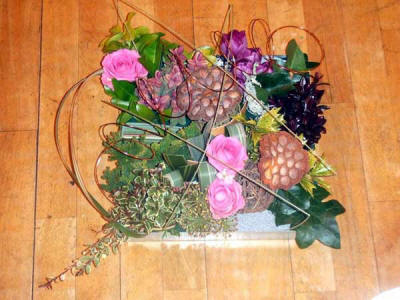 Basket from above
Designer Val Davidson, SAFAS Chairman
---
For further information on events go to the diary page
We are always looking for new Judges, Demonstrators, Teachers and Speakers so if you are interested please get in touch.





If you have any questions regarding any of the above matters then please email the JDE&S Chairman.