SAFAS DIARY

SCOTTISH ASSOCIATION of FLOWER ARRANGEMENT SOCIETIES
DATES for DIARIES from May 2022
IMPORTANT – When applying for tickets, please ensure that the cheque is made payable to the CLUB, as banking regulations do not allow endorsement of cheques into another account.
AFFILIATION FEES – SAFAS by 31 MARCH each year; and
NAFAS by 30 OCTOBER each year
FLOWER ARRANGER – Annual orders to be sent to Flower Arranger Officer.
FLORAL ROUNDABOUT – Order to be returned to Floral Roundabout Editor by 1st December
2022
8 May
BUSBY FLOWER CLUB
Diamonds are a Girl's Best Friend – an Afternoon Tea with a
demonstration by Julie Pearson at 2pm for 2.30pm in Redhurst Hotel, Giffnock,
60th anniversary celebration
Tickets £30 from Jennifer Forbes 0141 637 5256
9 May
FALKIRK FLORAL ART CLUB
Open Night with Coral Gardiner – The Wow Factor.
7pm for 7.30pm Stalls, Visitors £10, tickets from Marie Rutherford – Email marie.ruther06@uwclub.net
17 May
BEARSDEN FLOWER CLUB

Diamond Anniversary Lunch with Derek Armstrong
'Celebrating in Style' at Kilmardinny House Art Centre, Bearsden, 12.30 for 1pm
Tickets £40 from Elizabeth McIlwraith, 01412 942 4152
18 May

May Council Meeting

in Station Hotel Perth
18 May
LARGS FLOWER CLUB

45th Anniversary Lunch at Seamill Hydro,
followed by demonstration by Debbie Davis.
Further information from Anne de Koning.
19 May
KILMARNOCK FLOWER CLUB

celebrates the 2nd anniversary of their Diamond Anniversary
with an Afternoon Tea and demonstration by Coral Gardiner. At Dumfries House, Cumnock
starting with a drinks reception at 12.30.
Tickets £30. Contact Lynn Shaw 01563 526317
25 May
DUNDEE FLORAL ART CLUB

65th Anniversary Lunch (Blue Sapphire) at Invercarse Hotel, Perth Road,
Dundee followed by demonstration by Lorena Dyer – 'Lipstick Powder and Paint'
Tickets £40 from Christine McKenna.
26 May
JUDGES' REFRESHER DAY
in Station Hotel, Perth details from Shona Leckie 01382 530543
Email shona.a.leckie@btinternet.com
12 June
SAFAS 65th Anniversary Lunch

at Hearts of Midlothian Conference Centre, Edinburgh
Demonstration by Alan Beatty Tickets £40 from Judy Wightman
9-11 Sept
NAFAS Residential Weekend

'Together Again' at the Leicester Marriott Hotel.
To register
your interest please email events@nafas.org.uk.
More details on NAFAS website nafas.org.uk
21 Sept
Council Meeting

in Station Hotel, Perth
22, 23 & 24 Sept
DUMFRIES & DISTRICT FLOWER CLUB
Flower Festival to celebrate Diamond Anniversary
in the Crichton Church, Dumfries. 'Flights of Fancy'
25 Sept
CORSTORPHINE FLORAL ART CLUB

is celebrating 60 years with a lunch and
Demonstration from Lucy Richardson, at The Braid Hills Hotel, Edinburgh.
Details from Irene Young. 01968 674064 or irene_m_young@yahoo.co.uk
29 Sept
TEACHERS' ASSOCIATION

AGM in Perth,
Audrey Buchan – Autumn Glory
21 – 22 Oct

AREA SHOW
RENDEZVOUS in Falkirk Town Hall.
Demonstrations by Cherie Nummy from NIGFAS
Tickets available at Council or from Gillian Forrest 01358 720274
26 Oct

EDUCATION WORKSHOP
in Corn Exchange Cupar, tutor Irene Manson.
Tickets from Linda
Soutar tel: 01383 730462 Lindalex@btopenworld.com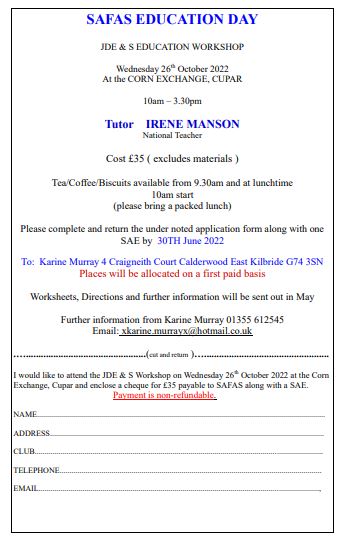 Click here to download Form
6 Nov
EDINBURGH FLORAL ART CLUB

celebrates its Platinum Anniversary (70 years).
Demonstration by June Borrowdale (success at Seamill Hydro) at Braidhills Hotel, 12.30 for 1pm
tickets £30 from Pat Denahy at 0131663 6328 Email patdenahy@yahoo.com
16 Nov
Council Meeting and AGM

in Station Hotel, Perth
23 Nov
TEACHERS' ASSOCIATION

St Thomas's Episcopal Church, Corstorphine, Edinburgh
Presenter Dawn Weaver
2023
TBC
JDE&S ALL DISCIPLINES' DAY
12 – 14 May
NAFAS National Show
in Gloucester Cathedral
If you wish further information on any of the above events then please
email the Area Media Officer or email the Area Chairman.