SAFAS HOME PAGE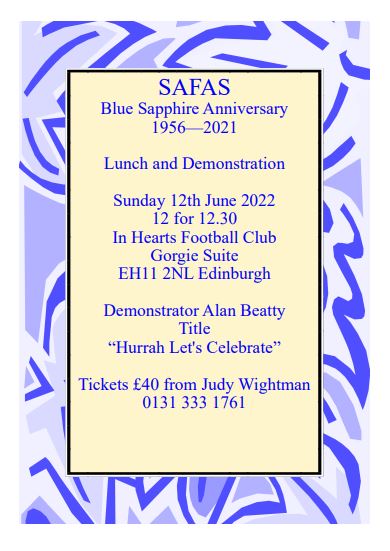 A v
ery exciting Date for your Diary - our 65th Anniversary Lunch which had to be postponed last year and will now take place on Sunday 12 June 2022 in Edinburgh.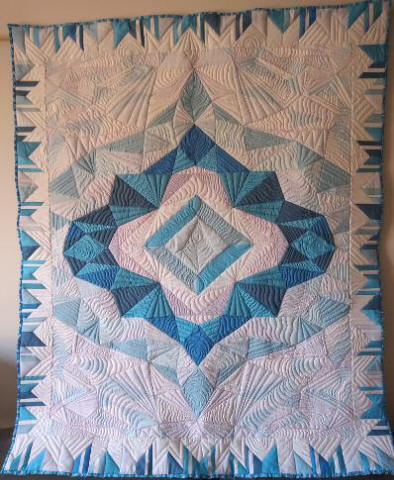 The quilt (above) has been Designed by Angela Walters
Commisioned by Margaret Strachan
Made by Sheila Buchan Musselburgh Club
Raffle tickets available to clubs early in the New Year
---
GUIDELINES FOR RETURN OF CLUBS
---
NAFAS/OCN TEACHER TRAINING COURSE ON LINE IN MID OCTOBER
The Course has 5 units and will be conducted on Zoom over a 6 month period
*Personal Development Journal
SAFAS VIRTUAL FLOWER SHOW - JULY 2020
Click on links below to view
Class 1 "Sweet Delight" A Petite Exhibit
Class 2 "Lazy Hazy Days of Summer"
Class 3 "Time For Texture" Tapestry/Pave Exhibit
Class 4 "Pzazz" An Exhibit not using foam
Class 6 "Rainbow" Junior Class Collage
The Scottish Association of Flower Arrangement Societies (SAFAS) is one of twenty one Areas of the National Association of Flower Arrangement Societies (NAFAS). There are currently 79 affiliated Clubs in SAFAS, which includes 4 Contemporary Design Groups, from the Borders to the Orkney Islands, with a total membership of 4958 which includes Junior and Island Club members. We have 2 Junior Clubs and 4 Island Clubs.
SAFAS, the third Area of NAFAS was formed in 1956 by a nucleus of 5 enthusiastic Clubs - Border, Edinburgh, Hawick, Glasgow and Peebles. Built on the solid foundation laid down by Past Area Chairmen and Executive Committees, we continue to this date to actively encourage and support floral art and design.
Part of our objectives are:
Advance Education in all facets of flower arranging.
Encourage the love of flowers and plants to demonstrate their decorative and creative values.
Support worthy causes and charities by organising exhibitions and competitions.
Encourage the conservation of rare and endangered species of flowers and plants.
Members can develop their skills and keep up to date with new trends by attending classes run within clubs or organized on a larger scale by the Area at workshops, tutored by experienced teachers and flower arrangers.
Most clubs meet once a month to enjoy demonstrations or talks by qualified Area or National Demonstrators or Speakers. No two clubs are the same and the syllabus is as varied as can be to suit the needs of the Club members. Entering in Club competition nights, local shows or festivals and exhibitions is always good experience and where the phrase Fun, Friendship and Flowers comes into its own.
There is a club near you and if you wish further information contact us to find out more

---
The SAFAS Area Insurance provided by Barfield does not cover individual Clubs.
Each Club should have its own Insurance for Public Liability, which covers Club Members and Visitors at Club Meetings; additional Insurance should be taken for Open nights and Special Events which would cover members of the public and also the cancellation of Demonstrators. Costs for this additional insurance will vary depending on the requirements and how many people will be attending the event - contact Jenny Foster at Barfield for advice and a quote.
The SAFAS Executive and Members are covered by the SAFAS Insurance at SAFAS Meetings.
---
For more information concerning SAFAS please follow the Links on the left or Contact Us.
Please note that there was a problem with contacting the Webmaster on the contact page - this has now been rectified.
Contact Webmaster with any problems - click here