Club Photo News

Collage of "Flower Power"
Peebles Arts & Crafts Festival September 2014
---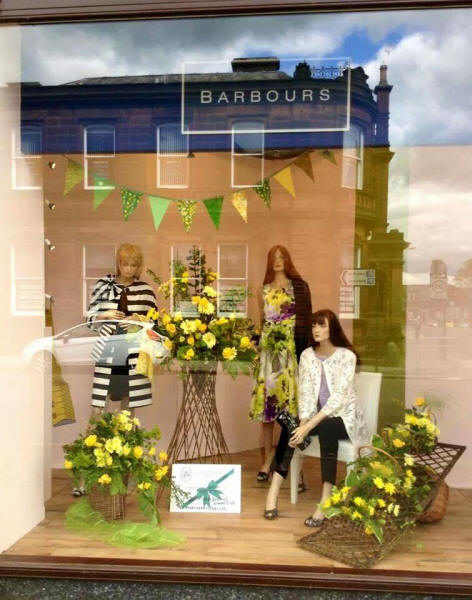 Dumfries and District Flower Club - window arrangement to celebrate the National Flower Arranging Day on 2nd May.
---
Collage of Children's Posies made at
Peebles Burgh Hall Arts and Crafts Festival September 2013
---
Sandy Bailey demonstrated for Aberdeen and County Floral Groupís Emerald Anniversary Celebrations on 11th May 2013

Demonstrator Sandy Bailey with Aberdeen and County Chairman, Ann Allan.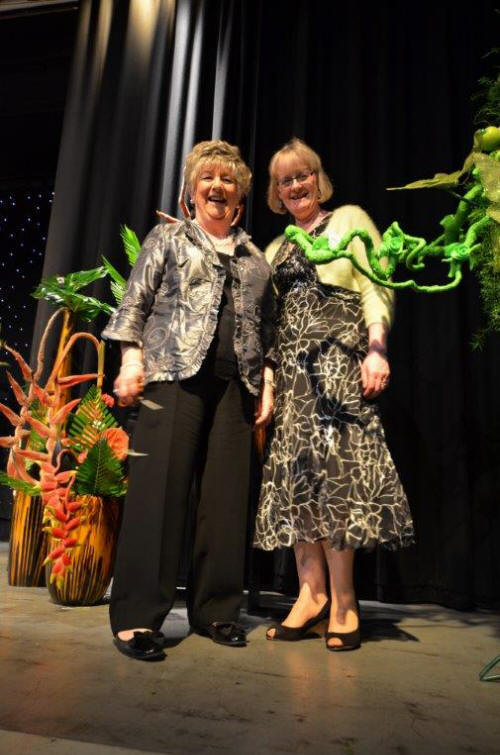 Flower arrangements by Sandy Bailey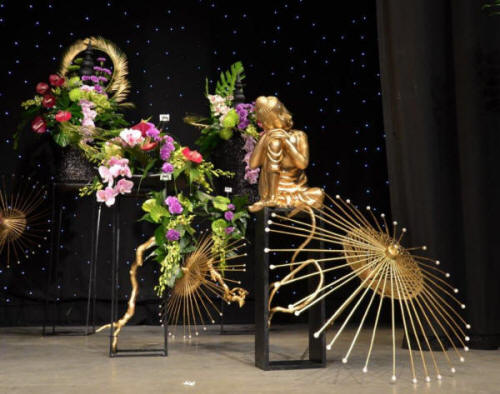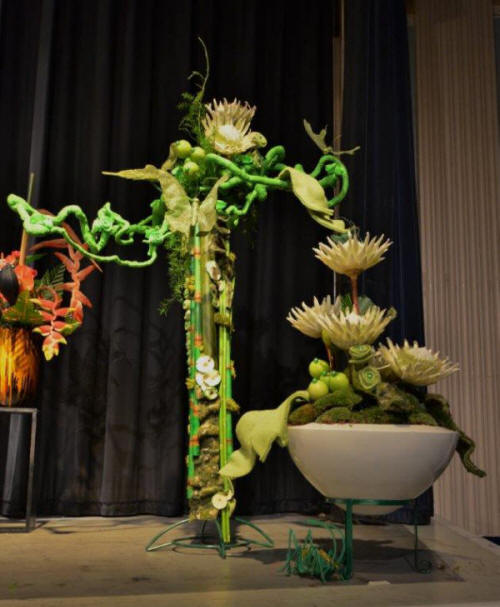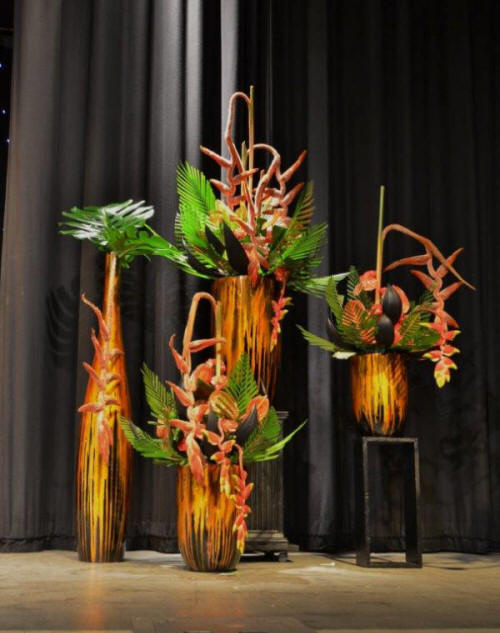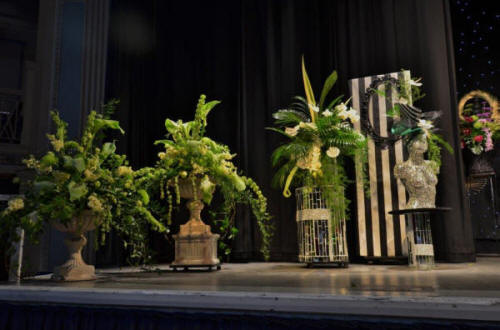 ---
Helensburgh FC Chairman Marilyn Bevan presents a cheque for £700 to Grace Wilson from CHAS. Money raised at their Spring Fayre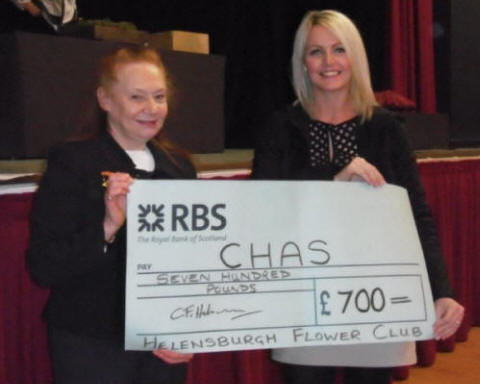 Photograph courtesy of Roni Stephensen
---
Peebles Horticultural Show August 2012
Nancy Forsyth "60 Glorious Years"

Nancy Gray "Party Piece"

Maureen Collier "Going for Gold"

---
Kirkwall Flower Club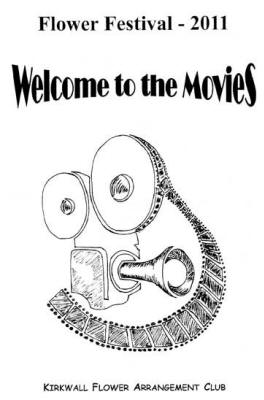 View Programme View Arrangements
---
BORDER FLOWER CLUB.


The Border Club celebrated their 55th Anniversary Lunch which was held in Melrose attended by members old and new. This was a most enjoyable and superb day.
---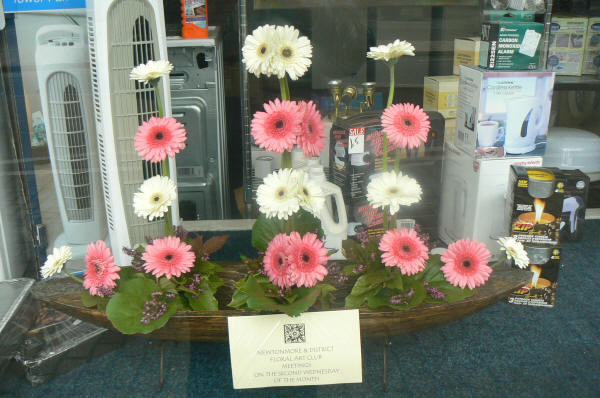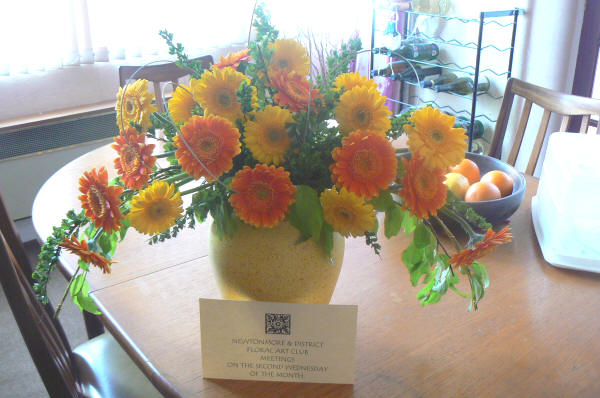 Photos from Newtonmoreand District Floral Art Club for the 5th May.
1st arrangement was in Newtonmore in Main Supply shop window by Mandy
Mullender and the 2nd in the Tourist Office in Kingussie by Ray
Smillie.
---

The Linlithgow Club's 50th Anniversary Lunch was held on Sunday 13 March at the Glenbervie House Hotel
---

Anne Carswell, Wendy Bryson, May Bassy and Anne Smith of Lenzie and District Flower Club.
Golden Rose Award winner Ayr Flower Show 2010.

View Ayr Flower Show winners here
---
Evelyn Young recently did a workshop for Brechin and District Floral Art Club on making floral handbags.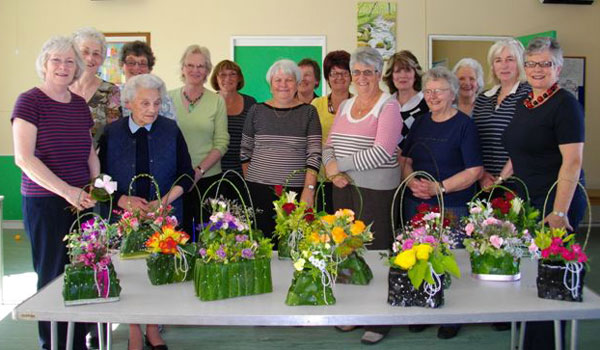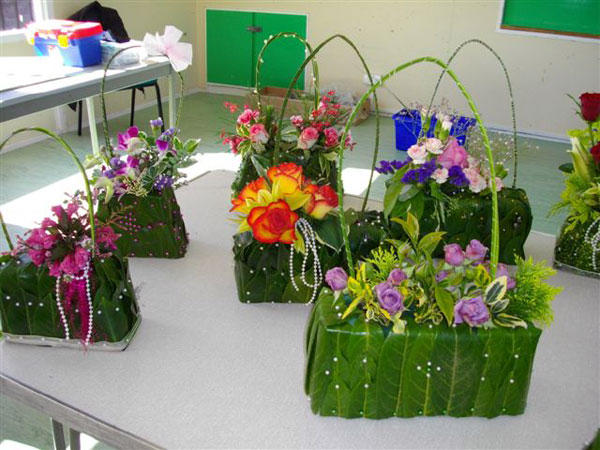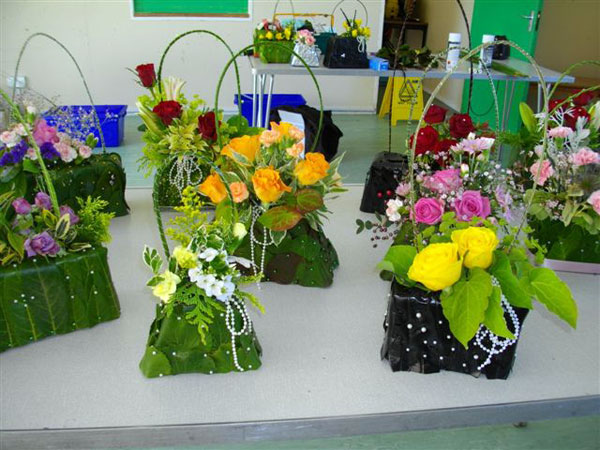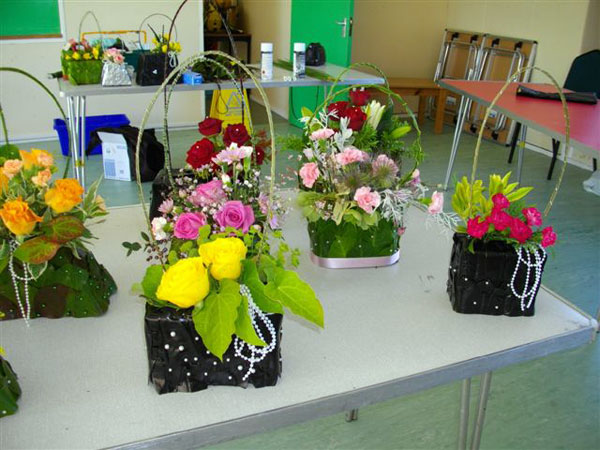 ---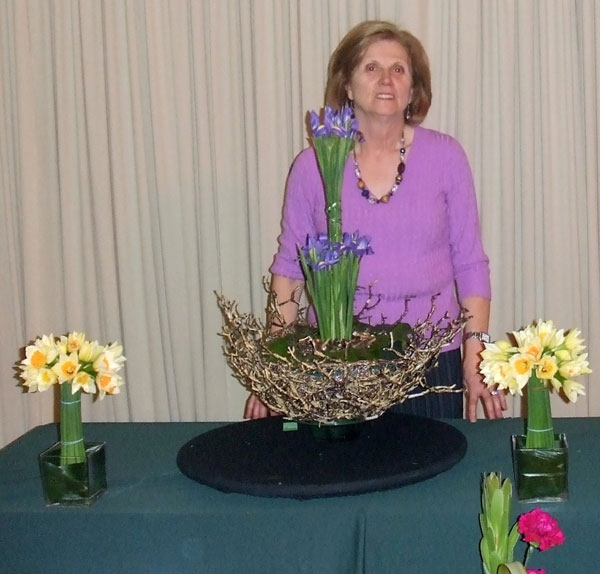 Area demonstrator Maureen Phimister returned to her home town of Stromness to present a demonstration and workshop to the Flower Club.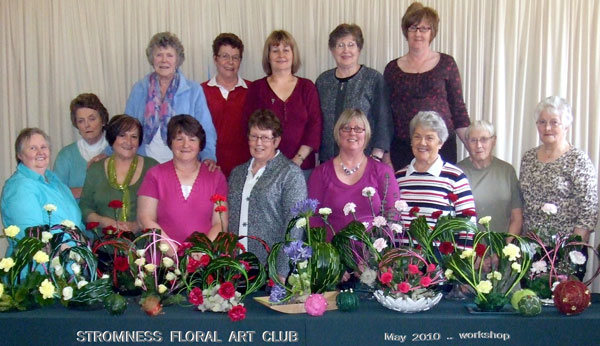 ---
The April presenter at New Horizons was former SAFAS Chairperson, Valerie Davidson.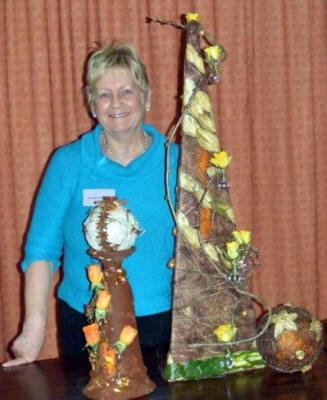 Her title was Spheres and Obelisks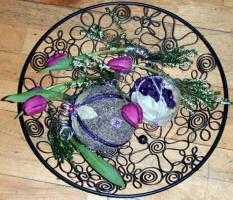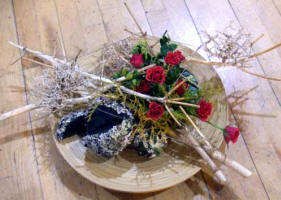 ---
The Scottish Bible Society celebrated its bi-centenary in 2009 and the local Lenzie branch of the Bible Society asked the Flower Club to help them stage a Flower Festival in St. Cyprian's Church, Lenzie in September 2009 as part of their contribution to the bi - centenary celebrations.
Click here to view more photographs & details
---
The Penicuik Club had a very successful lunch in the Craigiebield Hotel,
Penicuik in June to celebrate their 40th Anniversary.
---
Moniek Vanden Berghe presented two New Horizons workshops in early October 2009.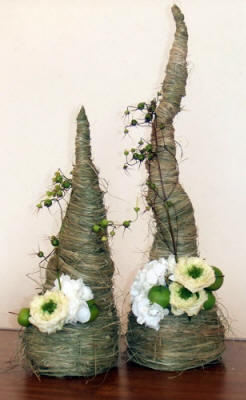 Her unique style and passion for her subject shone through as she held
attendees spellbound throughout.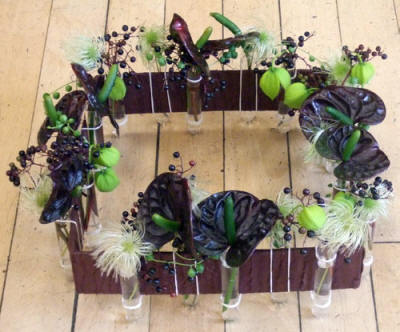 An outstanding presentation of the highest calibre.

---
Avril Aitken, Perth presented New Horizon's September workshop which was entitled "Let's Twist Again".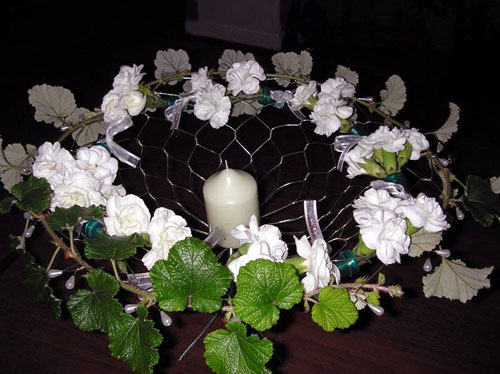 A rewarding day much enjoyed by all.
Avril features in the April/May 2009 issue of Fusion Flowers.

---
Kirkwall Flower Club held their 2009 Flower Festival in St Magnus Cathedral in August.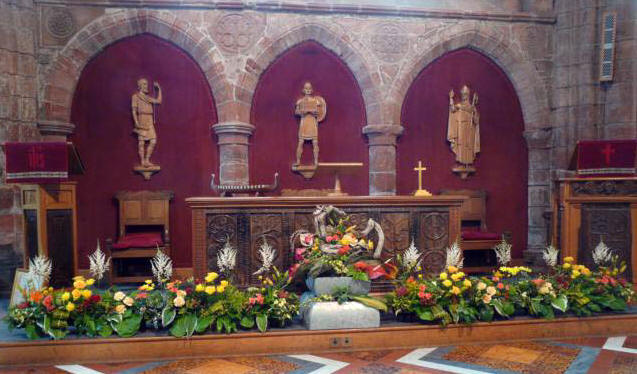 This year's theme was "These Golden Times".
The Kirkwall Flower Arrangement Club held its inaugural meeting on 16th April 1959. For the last 35 of the past 50 years, the club has created a floral display in St. Magnus Cathedral in aid of the Restoration Fund. In this 50th Anniversary year, the Club looks back over the decades, highlighting some memorable aspects of each.
View Arrangements here
---

Ayr Flower Show 2009
---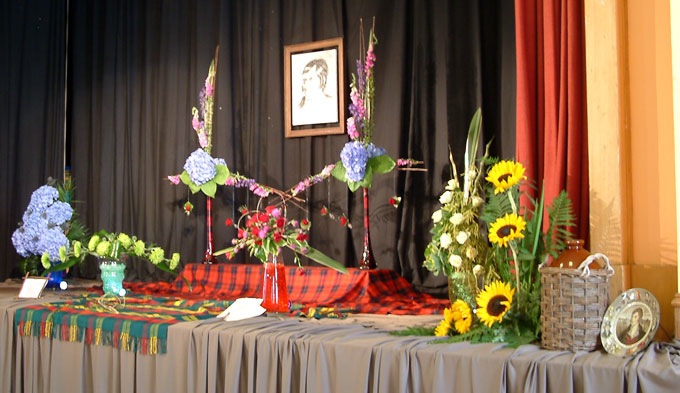 Netwonmore & District Floral Art Club held their 36th annual Flower Festival on the 15th and 16th July at Newtonmore Village Hall.
Contributing towards the "Year of Homecoming", this year's theme "Highland Welcome" had flower arrangements representing some of Robert Burns poems and songs ranging from "Red Red Rose", "to a Mouse", "Green Grow the Rashes" through to "Wren's Nest".
---
Dalkeith Floral Art Club celebrated its 50th Anniversary on 22 February with a well attended Luncheon and Demonstration at Hilton Edinburgh Grosvener Hotel.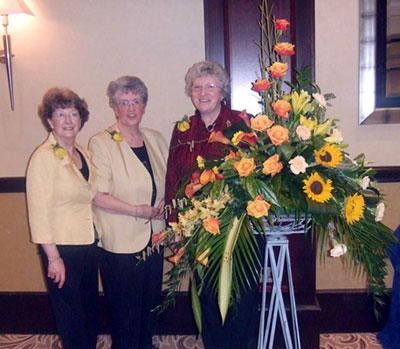 Club President Christine Buist welcomes Evelyn Young , demonstrator and Annie Adams, SAFAS Chairman to the Luncheon.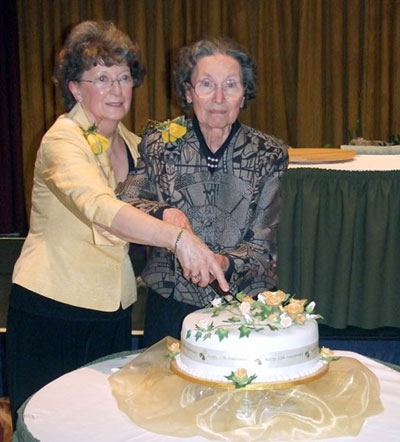 Club President Christine Buist invites Bunty Sommerville, founder member & Hon. Life member to cut the anniversary cake.
---
New Horizons tribute to NAFAS Golden Fanfare Week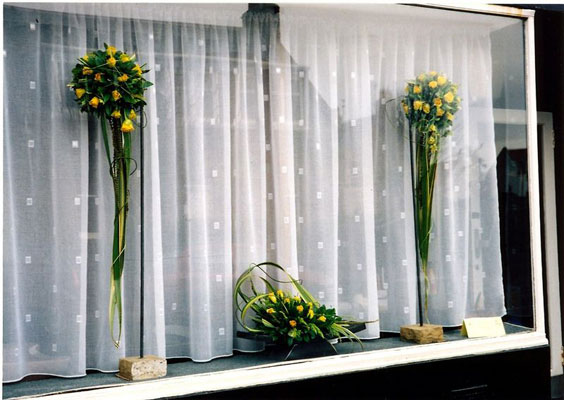 Arranger: Valerie Stuart - Location : Shop window Gullane

Arrangements placed in local library and garden centre in Dunfermline to celebrate "Golden Fanfare" of NAFAS
One of the Motherwell Floral Art Club arrangements to celebrate the 50th Anniversary of NAFAS

---
Newtonmore Flower Club held a Christmas Display in Kingussie at the start of December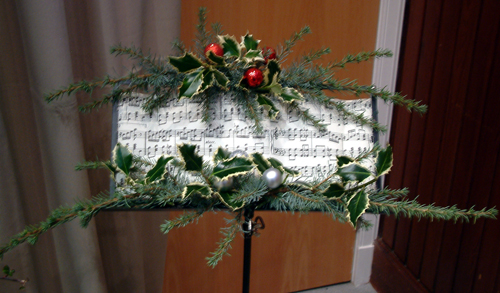 The theme was Christmas Songs - View Show here
---
Jo Goldsworthy represented New Horizons at the recent NAFAS Show held at The Royal Highland Centre, Edinburgh.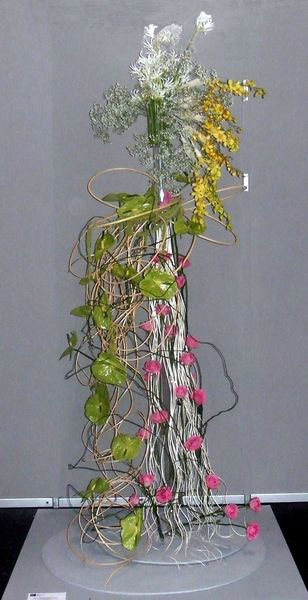 Title : Smiles Heaven upon this Fair Conjunction
---
Newtonmore Flower Club held their 2008 Summer Show in the Village Hall in July.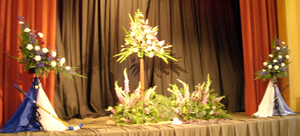 View Arrangements here
---
Kirkwall Flower Club held their 2008 Flower Festival in St Magnus Cathedral from 13-17th August.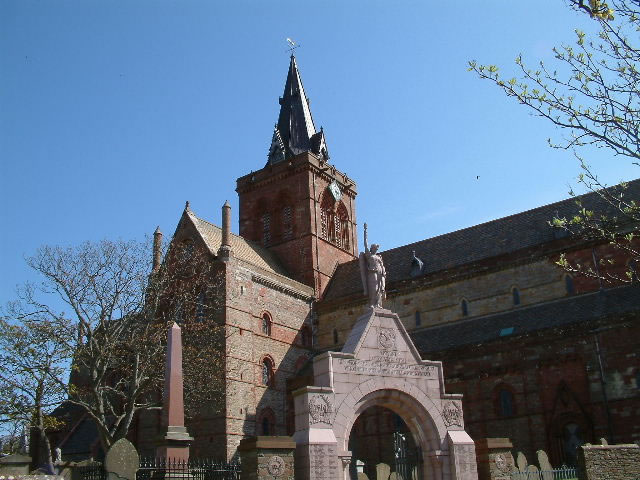 This year's theme was "Our Cathedral".
View Arrangements here
---
The following Pictures are from Busby's June's meeting
Demonstrator's was Ann Buchan and her title "Come into a garden".

---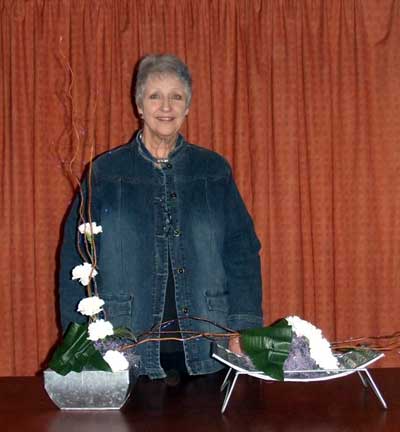 New Horizons Contemporary Club April 2008 Workshop Presenter was Wendy Howden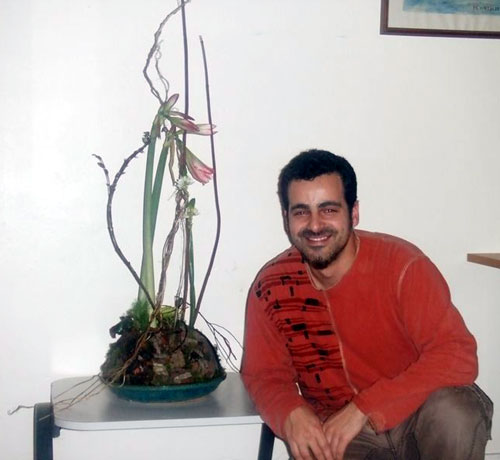 Carles Fontanillas from Spain, recently presented two workshops for New Horizons Contemporary Club, one in Stirling and one in Glasgow.
---
Peebles 53rd Annual Dinner was recently held at Peebles Hydro Hotel. A first class dinner was followed by an excellent and very entertaining demonstration entitled " A Candlelit Christmas " by Ian Lloyd.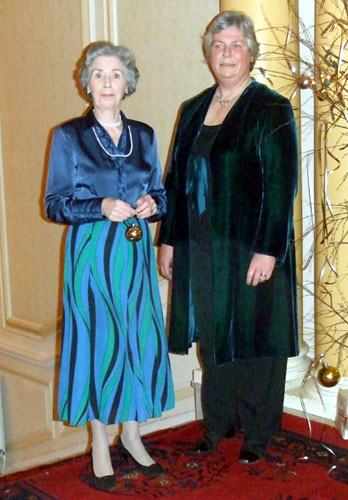 Chairman Margaret Adamson and Vice Chairman Nancy Forsyth welcoming members and their guests.
---
Troon Flower Club 35th Anniversary celebrations. Cake cut by founder member Mrs Nancy Hay, seen with Club Chairman Mrs Liz Maxwell.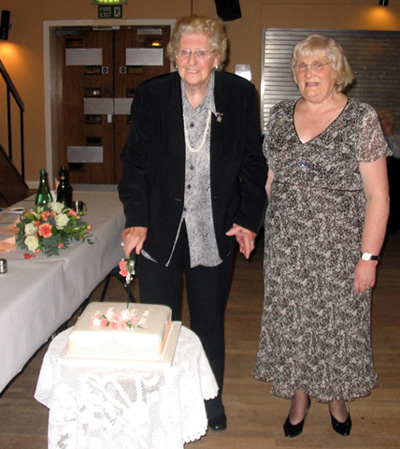 ---
Six members of Lilias Hoskins final City and Guilds Floral Arts Class of 1996 / 1999 in Edinburgh recently enjoyed a reunion and visit to the Chatsworth Flower Festival. The Festival entitled " Reflections " was the creation of members of North Midlands Area of NAFAS and all agreed that the displays throughout were simply magnificent. A truly fascinating display , congratulations to all concerned.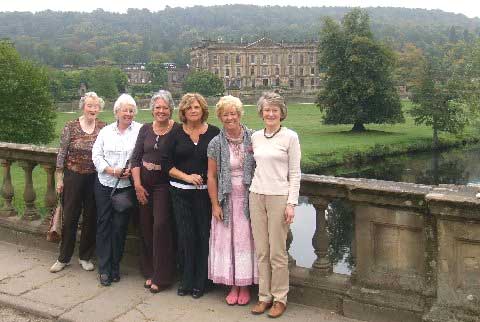 L to R - May Taylor, Monica Stevens, Sheila Lister, Maureen Phimister, Ruth Brown and Sarah Wilkinson with Chatsworth House in the background.
---
Kirkwall Flower Arrangement Club held it's annual St. Magnus Fair exhibition in St. Magnus Cathedral, Kirkwall from 1st to 5th August to raise funds for the Cathedral restoration Funds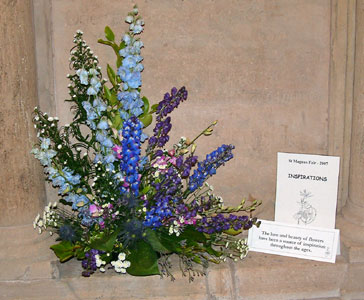 This year's theme was Inspirations
All this year displays can be viewed here
---
Motherwell Floral Art club celebrated it's 45th Anniversary on 16th May at the Glo Centre in Motherwell. Demonstrator was Alison Bradley.

Alison and her flowers
Sadie Grierson, Founder Member, May Keir 2nd Vice Chairman of SAFAS and Agnes Hornal Chairman of Motherwell Floral Art Club.
---
Bronze Medal Winners at Chelsea
Class Title - "A Night at the Opera"
Lenzie and District Flower Club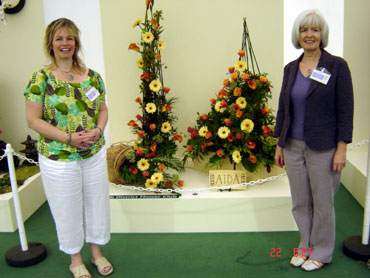 Lynne Smith chairman of Lenzie and District Flower Club and Wendy Bryson with their exhibit - Aida.

Busby Flower Club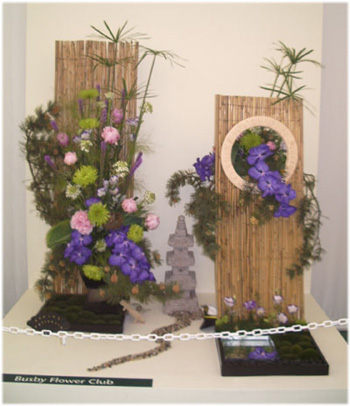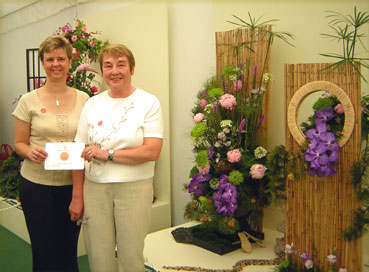 Anne McMillan and Janice Barbour id Busby Flower Club with their depiction of Madame Butterfly.
---
Members of SAFAS willing to submit photographs for display on the SAFAS web site should contact the webmaster.