Kirkwall Flower Arrangement Club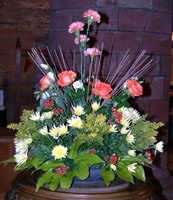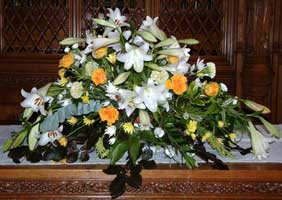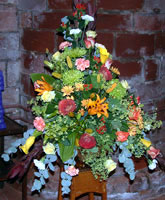 St. Magnus Fair 2007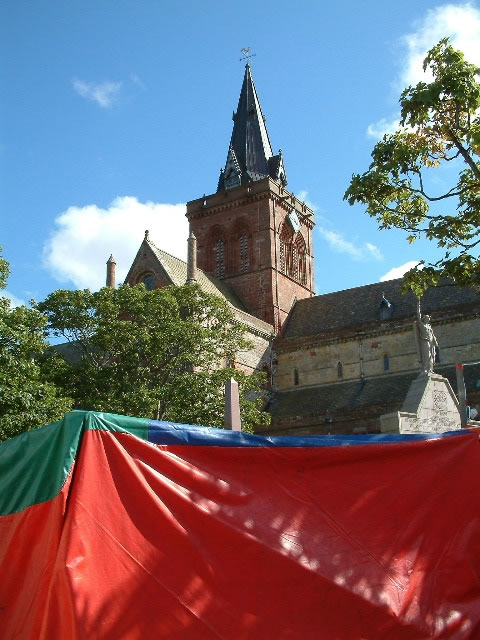 Inspirations
Inspiration leads to creativity. members of the Kirkwall Flower Arrangement Club share with you their own individual sources of inspiration and demonstrate how these have inspired them to create these displays of floral art.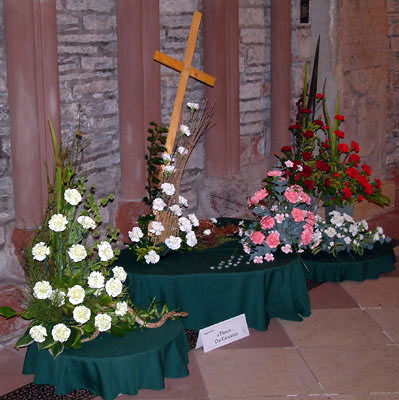 Inspired by a Flower — The Carnation For the most part, carnations express love, fascination and distinction. Light red carnations represent admiration, while dark red denote deep love and affection. White carnations indicate pure love and green are for St Patrick's Day. According to a Christian legend, carnations first appeared on earth as Jesus carried the Cross. The Virgin Mary shed tears at Jesus' plight and carnations sprang up from where her tears fell. Thus the pink carnation became the emblem of Mother's Day.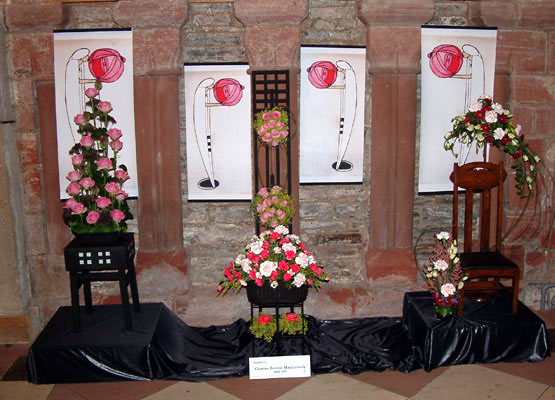 Inspired by Charles Rennie Mackintosh 1868-1929 Charles Rennie Mackintosh, architect, designer and artist is celebrated around the world as one of the most creative figures of the early 20th century. Few designers can claim to have created a unique and individual design that is instantly recognisable.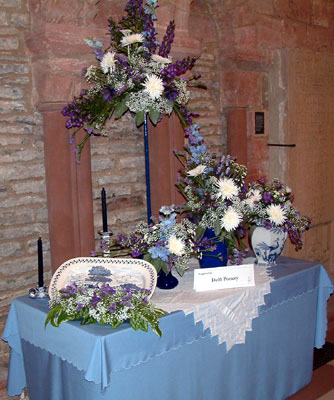 Inspired by Delft Pottery This tin-glazed earthenware originated in Delft in the Netherlands around 1600, typically with blue decoration on a white background. I enjoy the fresh, clean lines of the blue and white tiles and tableware in my kitchen and often do flowers to match.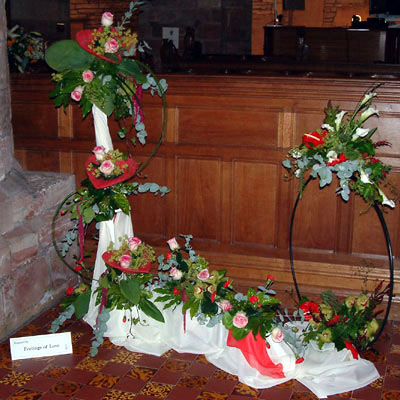 Inspired by Feelings of Love From birth and all through our lives, Love is the essence of life and makes the world go round.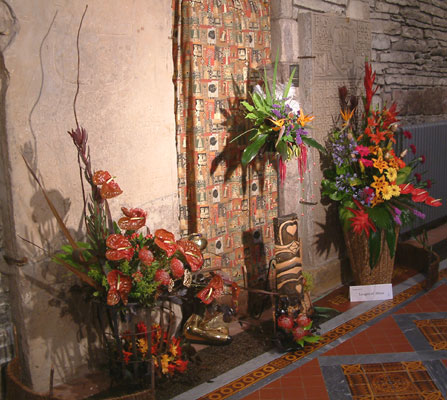 Inspired by Images of Africa Africa is a continent of many countries and contrasts — from deserts to rainforest, from vast plains to magnificent mountain ranges, from great wealth to extreme poverty. The images of Africa depicted here draw on the colours of Africa for inspiration. Picture sun-baked earth in tones of russet, red and ochre, amazing flowers in brilliant hues, the colourful fabrics and adornments of traditional dress and everywhere the evidence of an ancient and proud culture.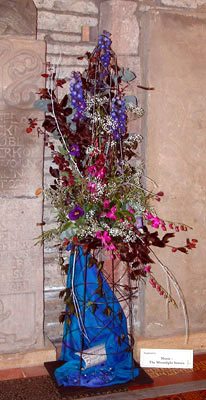 Inspired by Music — The Moonlight Sonata The nickname for the popular Piano Sonata by Beethoven came from the remark of a critic that the first movement reminded him of "moonlight on Lake Lucerne".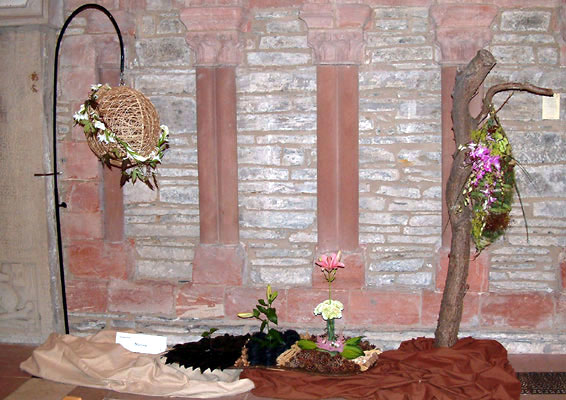 Inspired by Nature Many birds fly around the world for their annual migration, then make the return journey to their breeding grounds. From the barren ground of winter new life springs into growth. The beautiful butterfly emerges from the plain chrysalis.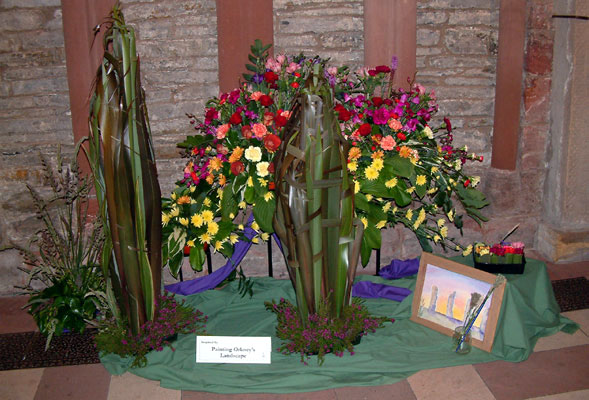 Inspired by Painting Orkney's Landscape Inspired by the Orkney landscape and local artist Jane Glue, watercolour painting has become a hobby for me. Surrounded by the beauty of Orkney's landscape, painting is a great way to enjoy it and Jane has helped me achieve this. The changing moods of the weather and the vibrant colours of Orkney's sunsets are a wonderful sight to see.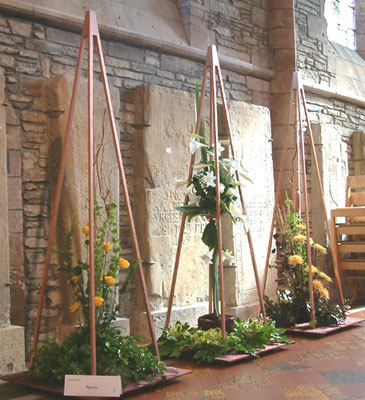 Inspired by Spires Medieval cathedral builders created churches with huge spires pointing heavenward.
George Mackay Brown in his poem "The Kirk and the Ship" wrote
"And the kirk grew, like a lovely ship
Freighted with psalm and ceremony, blissward blown…."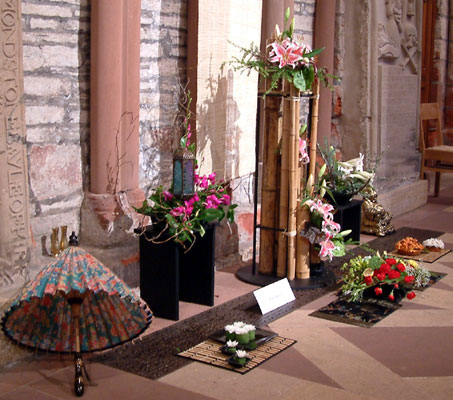 Inspired by The Orient The term "Orient" is derived from the Latin word "oriens" meaning "east", and traditionally "The Orient" referred to the cultures and countries of what are now considered the "Middle East". However, as awareness of these countries grew in the 19th century the term came to refer to China, Japan, Korea and the surrounding nations. Not only is there inspiration from the flowers, designs and materials of "The Orient", the colours and foods also contribute to the rich tapestry it portrays.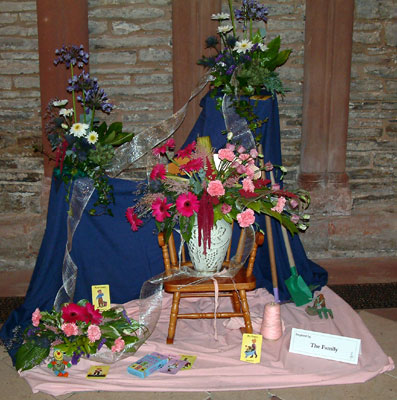 Inspired by The Family We were a strange little band of characters trudging our way through life, sharing sickness and toothpaste, coveting one another's treats, hiding books and toys, borrowing money, locking each other out of our rooms, inflicting pain and kissing to heal it in the same instant, loving, laughing, defending and trying to figure out the common thread that bonds us all together. (Based on a quotation from Erma Bombeck)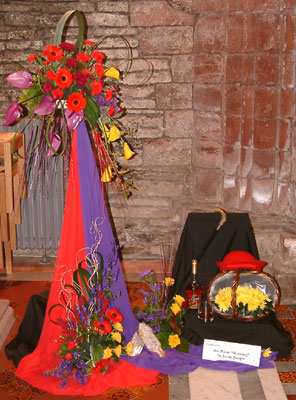 Inspired by the Poem "Warning" by Jenny Joseph
"When I am an old woman I shall wear purple
With a red hat which doesn't go, and doesn't suit me,
And I shall spend my pension on brandy and summer gloves
And satin sandals, and say we've no money for butter…."

This was the favourite poem of a dear friend, who at the age of 90 still enjoyed and lived life to the full and loved reciting this poem on many occasions — an inspiration to all.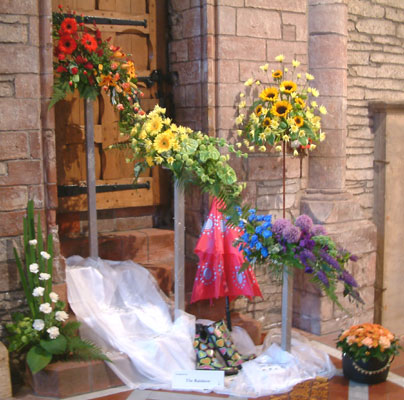 Inspired by The Rainbow The rainbow has inspired dreams of beauty and wealth in mankind since the dawn of time.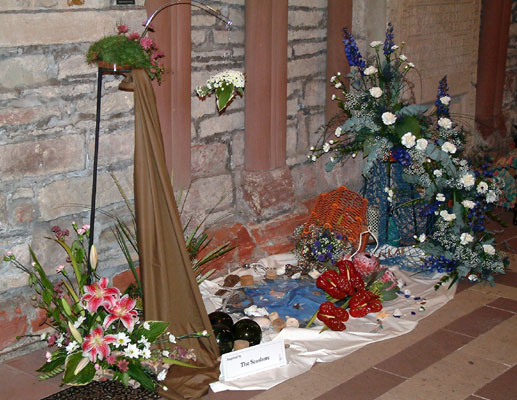 Inspired by The Seashore "The shore dweller has companionship with the free world of nature. There is always life and movement, birds flying about, waves breaking, salt winds blowing, an occasional seal in the bay, sea pinks and other flowers giving colour to the foreshore." (Robert Rendall)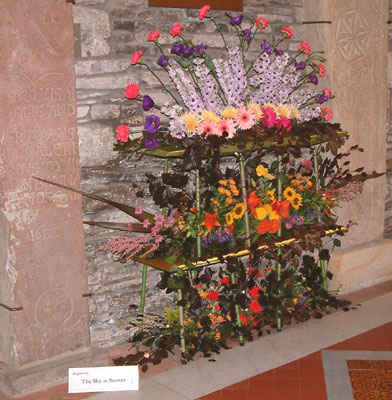 Inspired by The Sky at Sunset Long after the sun has set the sky glows with an ever changing array of colour from fiery red and orange to pale peach, pink and violet. Fingers of drifting cloud and reflected light contribute to a stunning display lasting late into the evening.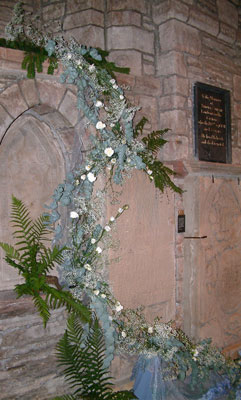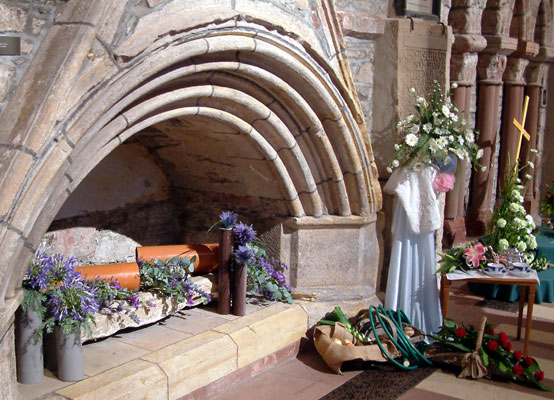 Inspired by Water Rain falls on mountains and hills forming waterfalls and streams. Gathered into reservoirs it flows through a network of underground pipes into our homes, thus allowing us to have a shower, enjoy a cup of tea and water our gardens. Where would we be without it?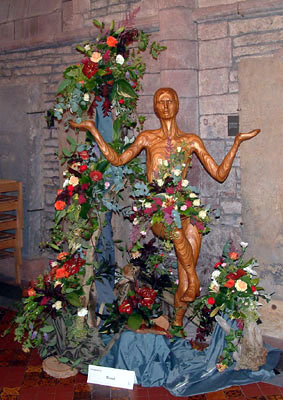 Inspired by Wood An everyday commodity which we take for granted, wood is so much a part of our homes and work places that we often overlook its beauty. Its many textures and colours all add to its charm. It is in these many forms that we enjoy this amazing material.